Asked to do a banner for little Tamar,
I was so moved that I designed a set
to go with the banner. This is
created from the pink roses on
dinner plates.... I scanned one
and this is the end result. The
lace is made from a picture I
took of a house with lattice on
the bottom, I basically just
resized it to make lace. It
simply amazes me the different
pieces of art you can get from
the most unlikely sources.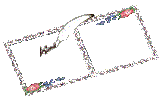 © ~Rexy